Today we released a new Chrome extension,
TabJump
!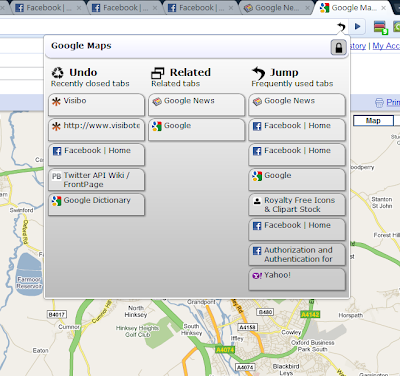 TabJump is a tool to help you navigate your tabs. "Another tab extension?" you may ask, but TabJump is different from TooManyTabs. TabJump shows only the most frequently used tabs in a session, as well as tabs associated with the current tab. When working with multiple tabs at the same time, you will find it very easy to find the tabs you want to use.
The undo column shows a list of recently closed tabs, and they are cleared when Chrome exits. Finally, you can lock tabs with the lock button next to the title. Attempting to close a locked tab will give an warning.
We are also developing new features for TooManyTabs-Chrome and FreshStart based on your feedback. There will be updates soon!
On the Firefox side,
Incredible Bookmarks 0.7
and
TooManyTabs 1.1.4
has gone public too. IB 0.7 brought better toolbar behavior and an improved Check Link interface. TMT 1.1.4 included Japanese (ja-JP) localization. If you are using Firefox regularly, they should be auto-updated.